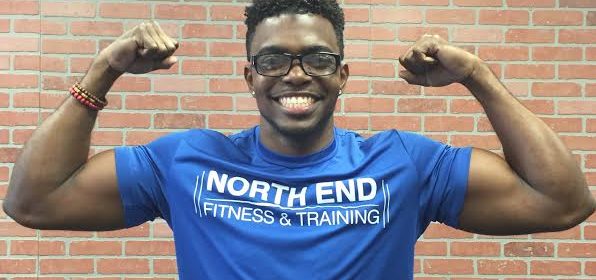 Meet Our Trainers: TAREM!
My passion for becoming a personal trainer first took root when I was studying at Lincoln University. My coach at the time admired my drive in the weight room and saw I had potential to push others to reach their fitness and health goals. I took the opportunity to become the Strength and Conditioning Coach of our team. It became truly clear to me that my calling was to help others achieve their ideal selves when my sibling was diagnosed as obese and came to me for help. Day after day I personally trained and pushed her to keep on track. While taking my personal training to a whole other level and through her perseverance, she achieved her ideal weight and lost over a hundred pounds. After this amazing experience, it was clear to me what my calling in life is. I love being able to help our clients achieve their goals and hope to continue to change lives here at North End Fitness and Training.
Hobbies

: Working out at the gym, working on my car, playing video games, reading
Describe your personal workout routine and goals

: A couple of months ago, I decided to start training to compete in a Male Physique Bodybuilding show. I go to the gym 3 days straight, then take one rest day. I spend about 3 hours at the gym (yes, it's a lot time, but I have a goal!). One day is dedicated to push and pull exercises that focus on the chest and back, another for biceps, triceps and shoulders, and the third day is leg day (the worst). After each main workout, I always include an ab routine at the end.
What are your favorite exercises?

My favorite exercises are any that target the core, especially the ninja crunch.
What keeps you motivated to live a healthy lifestyle?

I have the will to always be the best I can be, and this drives me to strive for optimal health and fitness.
What's your biggest obstacle to living a healthy lifestyle?

Eating 100% healthy… bad foods taste so good!
Go-to preworkout

– I always have a balanced meal 40-60 minutes before I workout.
Go-to postworkout

– Immediately after a  workout, I have a protein shake, then a salad or a healthy sandwich.  
What's your favorite cheat meal?

Chipotle! You can always get veggies so it makes me feel better about indulging
What's your favorite dessert?

CHOCOLATE CAKE. 
Worst excuse for missing a workout?

"I saw a deerbra and had to take a picture but they're so nimble"
What would you miss the most if you stopped working out?

I would miss my ability to do things that average people can't do.
Most hated fitness/nutrition myth?

The bigger you are, the stronger you are.
Favorite workout music?

I never listen to music while workout out, I listen to my thoughts and breathing pattern.
My friends describe me as….

Optimistic and strong willed. I do my best to not let negativity affect me.
Something you might not know about me is…

I'm a father of 2.
What is always on your grocery list?

Water! It's what I drink 99.5% of time.
Best advice you ever received?

"Hard work will beat natural talent 9 times out of 10.
Which superpower would you choose to have?

Being able to control and manipulate gravity.