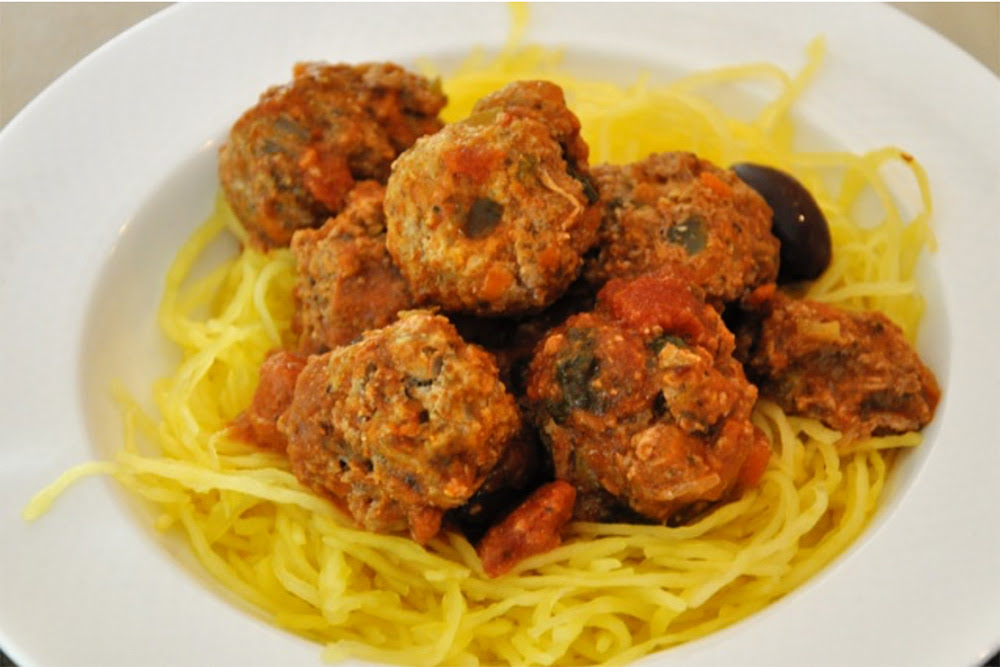 So you ditched that package of high-carb noodles from your pantry, now learn to love nature's healthy noodles: spaghetti squash. If you haven't yet tried spaghetti squash then you're in for a real treat. A pile of tender spaghetti squash strands piled high with protein and veggie meatballs makes the perfect fitness meal.
What you need
Serves 12
2 pounds lean, organic, grass-fed ground beef
1 pound lean, sweet turkey sausage
4 celery stalks, diced
1 yellow onion, diced
3 carrots, diced
3 omega-3, eggs
1/2 cup almond meal
2 Tablespoons dried oregano
1 teaspoon garlic powder
dash of salt and pepper
Optional: handful of olives
For the Sauce:
14.5 oz can diced tomatoes
1 can tomato paste
splash of white wine
2 cups fresh basil, chopped
6 garlic cloves, chopped
dash of salt and pepper
For the Noodles:
1 spaghetti squash
Instructions
1. Preheat oven to 375 degrees F. Wash spaghetti squash and poke all over with a knife. Place directly on the middle oven rack and bake for 1 hour. Remove from oven and allow to cool. Once cooled, slice in half and remove the seeds. Scoop the spaghetti squash strands out with a large spoon, set aside in a bowl.
2. Throw all of the meatball ingredients into a large bowl and mix with your hands. Form into large, golf ball sized meatballs.
3. Combine all of the sauce ingredients into a medium bowl and mix well.
4. Cook with Crockpot: Place the meatballs in your slow cooker. Cover with the sauce and cook on low for 6-8 hours. OR Cook with stovetop: Place meatballs in a large pot. Cover with sauce and cook, covered, over low heat for 2-3 hours.
5. Place a scoop of spaghetti squash noodles on each plate, top with meatballs and some sauce and then throw on a few olives.
Nutrition
266 calories, 12g fat, 426mg sodium, 14g carbohydrate, 4g fiber, and 26g protein