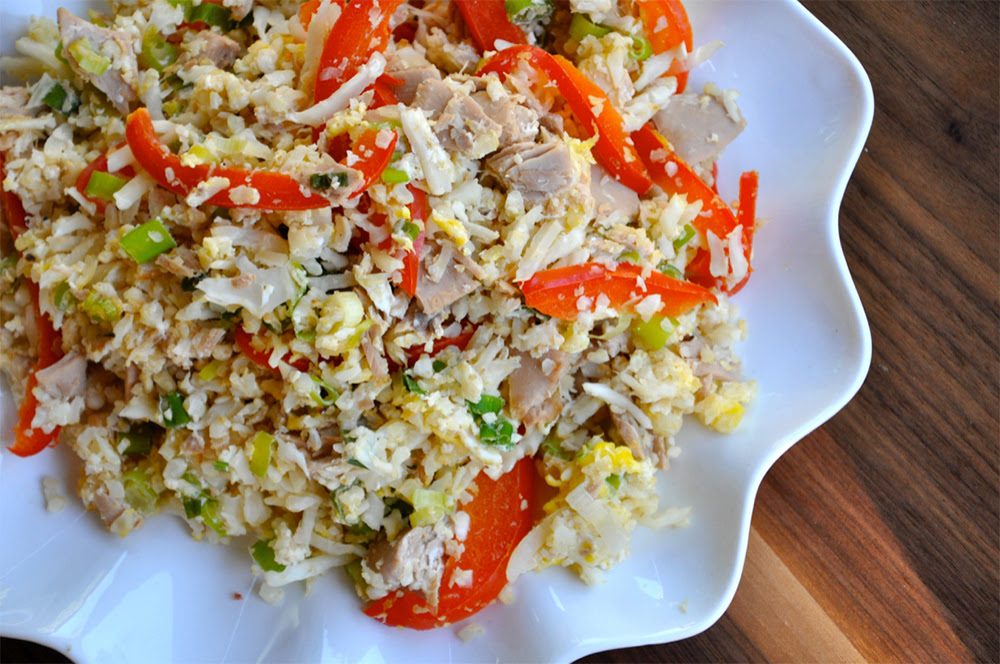 When sticking with a clean diet, as you work toward your fitness goals, it's a great idea to make healthier versions of your favorite foods, in order to keep your hunger satiated and to prevent falling off the healthy eating wagon.
Today I have a remake of stir-fried rice for you that is made with fiber-filled cauliflower instead of grain-filled rice and has flavor and protein additions galore. This version of cauliflower rice is PACKED with protein! Eggs and albacore tuna make this rice the perfect side to your meal when you're on a mission to slim down.
What you need
Serves 4
1 head cauliflower
2 teaspoons olive oil
4 green onions, chopped
½ red bell pepper, thinly sliced
1 can albacore tuna, in water
2 eggs
Sea salt and black pepper
Instructions
1. Using a food processor with the grating blade, grate all of the cauliflower.
2. Heat the olive oil in a large skillet or wok over medium. Add the onions and bell peppers, sauté for 3 minutes. Add the tuna and eggs, stir to combine. When the eggs have set, add the grated cauliflower and mix to combine.
3. Season the rice mixture with salt and pepper. Reduce the heat to low, cover and cook for another 5 minutes. Enjoy!
Nutrition
One serving equals 146 calories, 4g fat, 14g carbohydrate, 0g sugar, 311mg sodium, 7g fiber, and 15g protein.