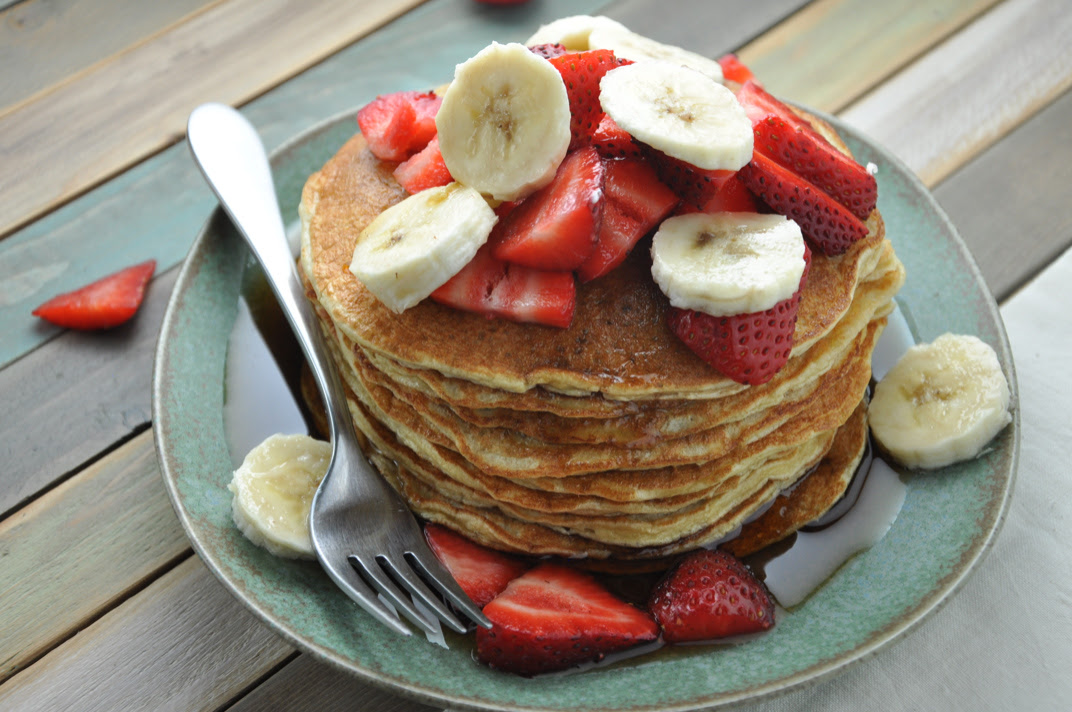 Traditional pancakes are filled with carbs, grains and a plethora of simple sugars – not something you'd consider healthy. In fact, eat pancakes regularly and you'll find your fitness results quickly disappear. 


However, this simple, wholesome, protein-packed pancake recipe is the exception. I've reduced the carbs and sugars from flour and sugar while replacing them with protein from cottage cheese, protein powder and eggs. This means that you'll be fueling your fitness results in a seriously delicious way by enjoying a plate of these tasty pancakes!


It's a pancake that you're able to enjoy without guilt.
What you need
Serves 12
½ cup Vanilla Protein Powder
½ cup old fashion oats
½ teaspoon baking soda
¼ teaspoon sea salt
1 teaspoon Liquid Stevia
4 eggs
1 cup cottage cheese
½ cup Unsweetened Coconut Milk (or any milk)
1 tablespoon coconut oil
Instructions
1. Preheat your pancake griddle or large skillet over medium-high heat.
2. Combine all of the ingredients in a food processor. Pulse to combine until smooth.
3. Let the batter sit for 10–15 minutes, if you can muster the patience, to help your pancakes bind together.
4. Use a paper towel to carefully rub coconut oil on your preheated griddle or skillet. Reduce the heat to medium. Use a 1⁄4 cup to scoop the batter onto the griddle in nice big circles. When bubbles form, flip the pancakes to cook on the other side.
5. Serve with fresh fruit and a drizzle of pure maple syrup.
Nutrition
One serving equals: 88 calories, 4g fat, 206mg sodium, 3g carbohydrate, 0g fiber, 1g sugar and 11g protein.