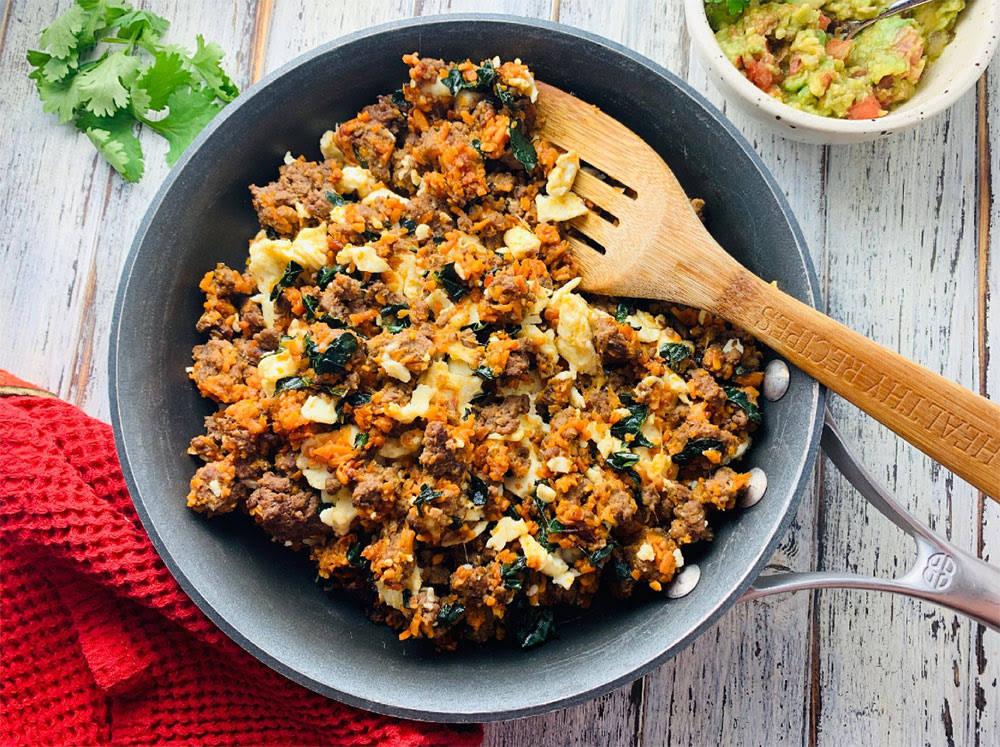 This Beef Skillet Supper is a very Fitness-Friendly meal, with tons of protein and wholesome, nutritious ingredients to power you through your day and fuel your results. It's perfect for making on a weeknight when you don't have a ton of time to spend in the kitchen, but you still want a dish that's full of flavor.
This recipe calls for sweet potato rice, which is sweet potato that has been turned into noodles with a spiral slicer, and then pulsed in the food processor until small rice-like pieces form. It's entirely possible to save time by chopping up your sweet potato rather than going through the process of turning it into rice, if you'd prefer!
Courtesy of RealHealthyRecipes.com
What you need
Serves 4
1 pound lean ground beef
1 teaspoon sea salt
1 teaspoon sweet paprika
1 teaspoon garlic powder
2 Cups Sweet Potato Rice or finely chopped, uncooked sweet potato
2 cups kale, chopped
1 cup liquid egg whites
*Optional* ¼ cup fresh mozzarella
*Optional* ¼ cup fresh cilantro
*Optional* ¼ cup guacamole
Instructions
1. Place a large skillet over medium high heat. Add the ground beef and cook, breaking it up with a wooden spoon, until all of the pink is gone. Remove from heat.
2. Mix the sea salt, paprika and garlic powder into the beef. Return the heat to medium and add the sweet potato rice to the skillet. Cover and cook for 5 minutes.
3. Add the chopped kale to the skillet, cover and cook for another 5 minutes.
4. In another skillet over medium heat and scramble the egg whites until the curds are barely wet and starting to break apart.
5. Mix the egg whites into the skillet and top with mozzarella and cilantro. Immediately serve with guacamole. Enjoy!
Nutrition
One serving equals: 342 calories, 7g fat, 712mg sodium, 22g carbohydrate, 4g fiber, 6g sugar and 44g protein.