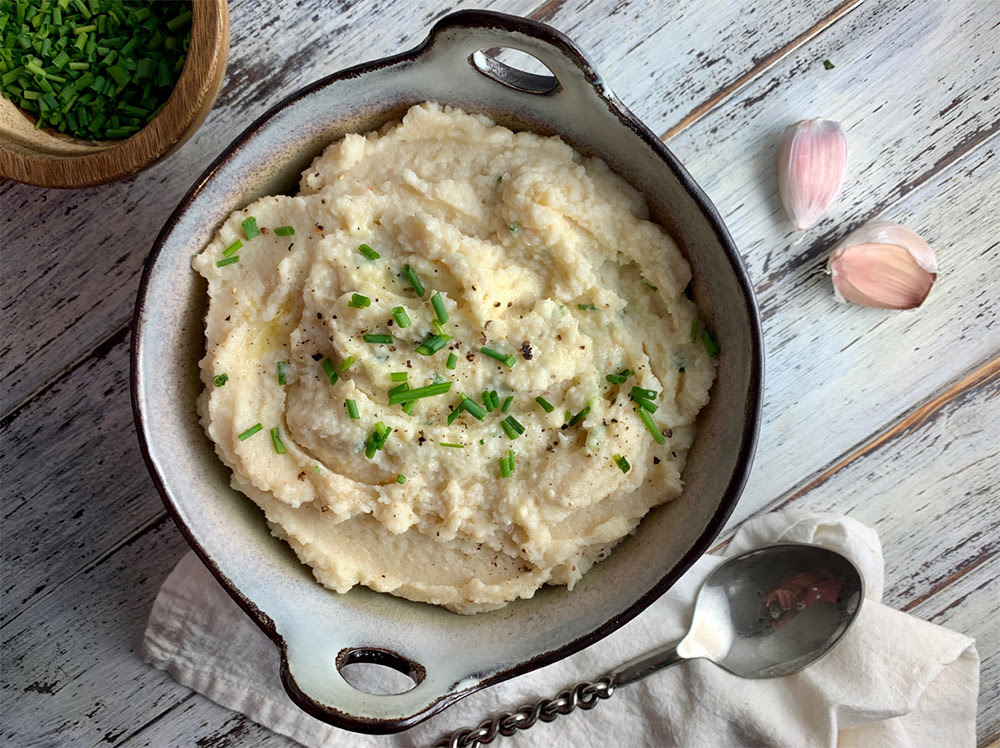 Move over mashed potatoes....your services are no longer needed here.
There is literally NO REASON to ever make mashed potatoes again now that CAULIFLOWER SMASH is in town!
The smashed garlic adds such phenomenal flavor that it's hard to stop eating it. This creamy, delightful dish is perfect for your holiday repertoire this year! Yum!
Courtesy of RealHealthyRecipes.com
What you need
Serves 4
1 head cauliflower florets
3 tablespoons Coconut Oil OR Butter
6 garlic cloves, smashed
3 tablespoons Plain Greek Yogurt
¼ cup parmesan cheese (or 2 Tbsp of nutritional yeast)
sea salt and black pepper
1 Tbsp fresh chives, minced *optional garnish
Instructions
1. Place the cauliflower florets in a pot of water and bring to a boil for 10 minutes, until tender. Drain the pot and transfer the cauliflower to a food processor.
2. Return the pot to medium heat. Add the oil (or butter) and the smashed garlic cloves. Sauté until fragrant, for about a minute.
3. Transfer the garlic to the food processor along with the remaining ingredients. Blend until a smooth consistency is reached. Garnish with minced chives. Enjoy!
Nutrition
One serving equals: 194 calories, 13g fat, 240mg sodium, 9g carbohydrate, 2g fiber, 4g sugar and 13g protein.