No Tortilla Chicken Soup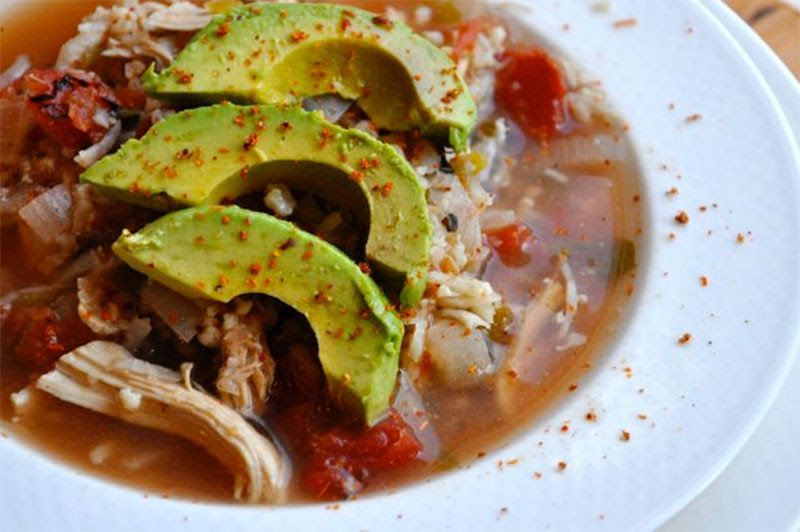 A bowl of this homemade soup is a wonderful meal to enjoy during the holidays. It's low carb and filled with protein and veggies to power your day and curb your cravings. Best of all it's made in the slow cooker, so preparation is quick and easy.
Most tortilla soup recipes contain ingredients that are high in carbs, like tortilla strips and rice. In this recipe I've removed these ingredients and filled in the gaps with high fiber cauliflower rice. What's great is that you get all of the tortilla soup flavors that you love without the extra calories.
Courtesy of RealHealthyRecipes.com
What you need
Serves 8
2 organic, free range chicken breasts
1 (28oz) can diced, fire roasted tomatoes
1 (4oz) can green chiles, chopped
1 yellow onion, chopped
2 cloves garlic, minced
1 head cauliflower, shredded
32 oz organic, free range chicken broth
2 teaspoons ground cumin
dash of sea salt and pepper
¼ cup fresh cilantro, chopped
2 avocados
Tajin seasoning for garnish
Instructions
1. Combine all of the ingredients, except the cilantro, avocado and tajin, in a slow cooker. Cover and cook on high for 3 hours.
2. Remove the chicken breasts from the slow cooker. Shred with a fork and then return to the slow cooker.
3. Garnish each bowl with a sprinkle of cilantro, a few slices of avocado and a dash of tajin. Enjoy!
Nutrition
One serving equals 153 calories, 6g fat, 321mg sodium, 14g carbohydrate, 7g fiber, and 10g protein.