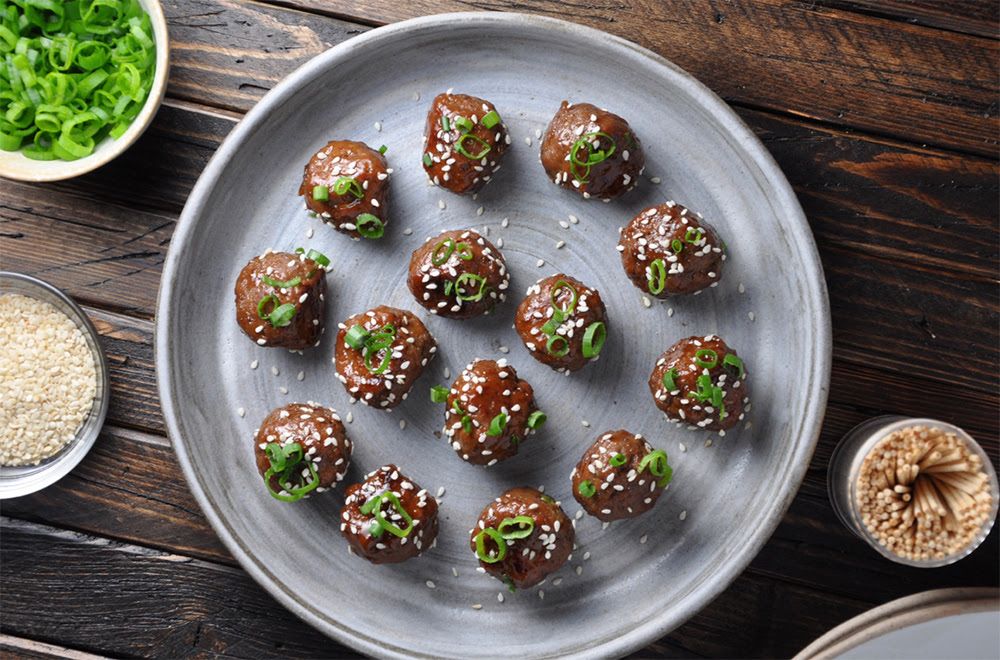 ​​​​If you are a lover of teriyaki then these subtly sweet meatballs are right up your alley! These make a wonderful appetizer for your holiday party.
Feel free to use liquid stevia rather than the honey if you are looking for an extremely low sugar dish. However, for most of us, this small amount of healthful, raw honey is perfectly A-OK and beneficial.
Serve these tasty meatballs up as an appetizer or serve over arugula or spaghetti squash for a small, fitness-minded meal. Enjoy!
Courtesy of RealHealthyRecipes.com
What you need
Serves 5
1 tablespoon garlic, minced
2 tablespoons ginger, minced
¼ cup scallions, minced, plus more for garnish
1 pound ground beef
1 teaspoon sea salt
1 tablespoon toasted sesame oil
3 tablespoons coconut aminos
1 tablespoon raw honey
1 tablespoon white wine vinegar
½ teaspoon arrowroot starch
3 tablespoons water
1 tablespoon sesame seeds
Instructions
1. Combine the garlic, ginger and scallions in a food processor. Pulse until well combined and finely minced.
2. Transfer the garlic mixture to a large bowl and add the ground beef and sea salt. Use your hands to mix until well combined. Form the mixture into 20 meatballs, about an inch in diameter.
3. Place a large skillet over medium-high heat and add the sesame oil. Add the meatballs and cook, shaking often, until browned on all sides and cooked through. Remove the meatballs and set aside on a plate.
4. Add the coconut aminos, honey and vinegar to the skillet. In a small bowl whisk the arrowroot starch and water together until fully dissolved. Add to the skillet, mix and simmer until the mixture has thickened, about 2 minutes. Return the meatballs to the skillet and cover in the sauce. Serve immediately, garnish with scallions and sesame seeds.
Nutrition
Four Meatballs equals: 189 calories, 7g fat, 372mg sodium, 6g carbohydrate, 3g fiber, 2g sugar and 23g protein.