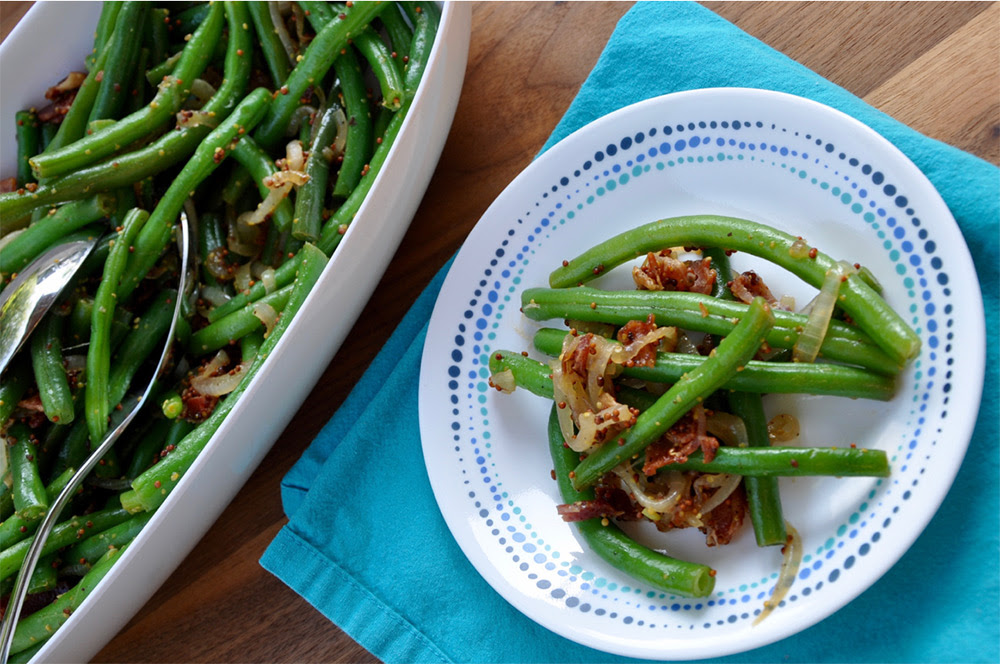 Here's a tasty way to serve up fresh green beans. Smokey bacon and tangy mustard give these tender-crisp green beans memorable flavor. This side dish pairs perfectly with steak or chicken on the grill or alongside a lettuce wrapped burger. Enjoy!
Courtesy of RealHealthyRecipes.com
What you need
Servings: 6
2 lbs green beans, trimmed
6 slices bacon
1/2 cup yellow onion, sliced
2 Tablespoons apple cider vinegar
2 Tablespoons whole grain mustard
½ teaspoon sea salt
¼ teaspoon black pepper
Instructions
1. Bring a large pot of water to boil. Add the green beans and cook for 5 minutes. Drain the beans into a colander and place under cold water for 20 seconds.
2. In a large skillet, cook the bacon until crispy over medium-high heat. Remove the bacon from the skillet, leaving the bacon drippings, and chop into 1-inch pieces.
3. Return the skillet to medium-high heat and cook the onions in the bacon drippings for 5 minutes, or until tender. Reduce the heat to low and add the vinegar, mustard, salt and pepper, stirring until fully combined. Add the green beans and the bacon pieces and mix well. Serve and enjoy!
Nutrition
One serving equals: 158 calories, 8g fat, 12g carbohydrate, 6g fiber, and 10g protein.