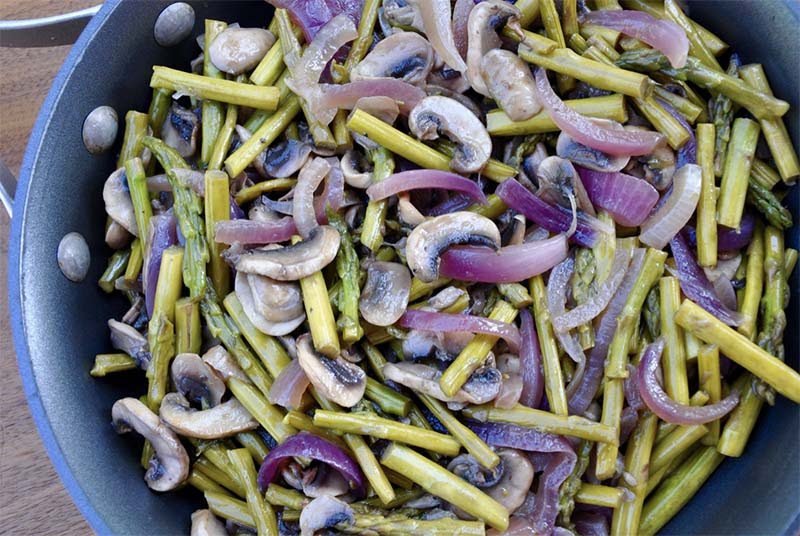 This mixture of tender veggies is perfect for packed meals for the week. The savory and tangy flavor element from the vinegar adds the perfect amount of kick to liven up a serving of protein.
One of the reasons that I chose these three particular vegetables (red onions, mushrooms, and asparagus) was because it will last all week in the fridge without getting soft, soggy or otherwise undesirable. In fact, the flavors intensify over a few days and you can continue to enjoy the same batch all week!
Courtesy of RealHealthyRecipes.com
What you need
Servings: 8
2 teaspoons olive oil
1 red onion, halved and sliced
2 bunches Asparagus, trimmed and cut into 1-inch segments
4 cups white mushrooms, stems removed and sliced
¼ cup white wine
sea salt and black pepper
Instructions
1. Place a large skillet over medium-high heat and add the olive oil. Once hot, add the onion and sauté for 4 minutes.
2. Add the asparagus and sauté for another 4 minutes.
3. Add the mushrooms and vinegar and continue to sauté for another 4 minutes. Season generously with salt and pepper and continue to sauté until the liquid is gone and the veggies are tender and flavorful. Enjoy!
Nutrition
One serving equals: 43 calories, 2g fat, 5g carbohydrate, 2g sugar, 4mg sodium, 2g fiber, and 3g protein.