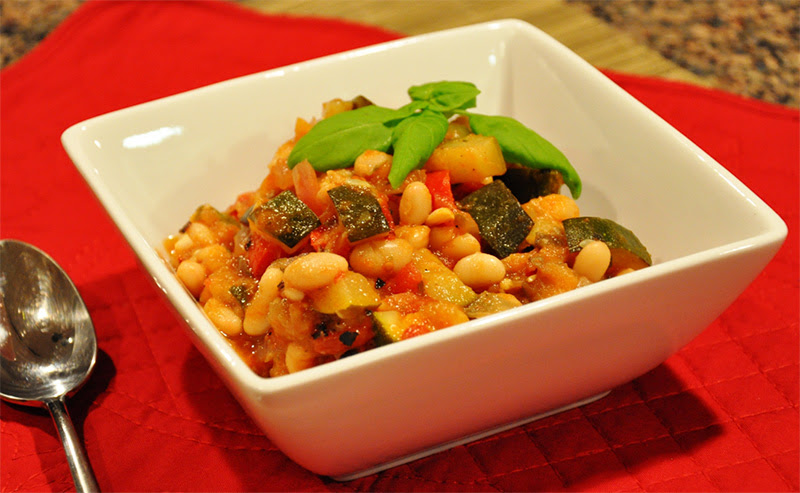 Today I'm sharing a healthy recipe with you that will please your taste buds while taking you one step closer to achieving your fitness goals. Ratatouille is a dish of cooked vegetables that originated in southern France. It is hearty and satisfying, like comfort food, with none of the guilt. This version contains white beans, which add protein and have a wonderful texture. Serve it hot or cold, either way this dish is sure to please.
All of that hard work that you put into your workouts can quickly and easily be lost on unhealthy eating – which is why it's so important to enjoy light, protein-filled meals like this one.
What You Need
Serves 8
1 large-size globe eggplant, cut in ½ inch cubes
1 tablespoon water, for sautéing
2 medium-size red onions, sliced
3 medium-size zucchini, cut in ½ inch cubes
2 red bell peppers, cut into ½ inch squares
4 garlic cloves, minced
¼ cup dry white wine
1 cup vegetable stock
4 tomatoes, seeded and roughly chopped (or 2 cans - 15 oz each – fire roasted diced tomatoes)
1 tablespoon chopped fresh parsley
½ teaspoon dried thyme
½ teaspoon dried oregano
2 bay leaves
2 (15oz) cans white beans, drained and rinsed
Salt and fresh group pepper, to taste
½ cup finely chopped fresh basil
Instructions
1. Steam eggplant cubes for 10 minutes. Heat the water in a large-size sauté pan, add onions and cook, for 5 minutes.
2. Add zucchini and bell peppers and cook, stirring often, for another 5 minutes. Add steamed eggplant and cook another 5 minutes, then add garlic.
3. Add wine and stock. Bring to a boil over high heat, then reduce heat to medium-high and stir in tomatoes, parsley, thyme, oregano, and bay leaves. Reduce heat, cover, and simmer gently for 15 minutes, stirring occasionally.
4. Add beans to skillet, stirring well to combine. Cook, uncovered, until vegetables are tender but not mushy and liquids have thickened, stirring occasionally for another 5 minutes. Season with salt to taste.
5. Remove skillet from heat, remove the bay leaves, and stir in chopped basil.
Nutrition
One serving equals:195 calories, 1g fat, 38g carbohydrate, 11.5g fiber, and 9.5g protein.