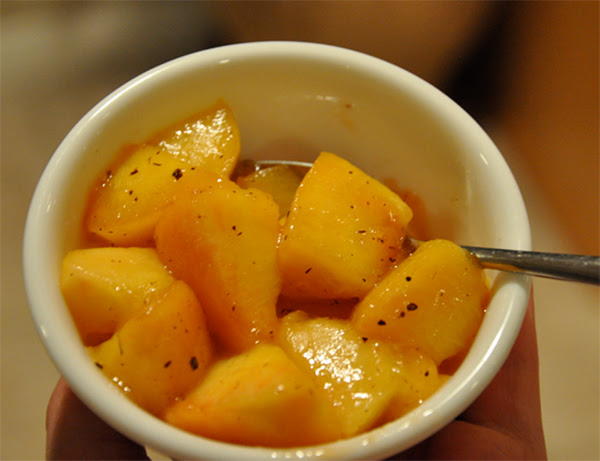 Wondering what to do with local, organic fresh grown fruit? Let's turn it into a guilt-free cobbler!
Most cobbler recipes are laden with extra sugar and fattening crusts, but not this recipe. I used peaches, but feel free to substitute with apples or pears. Traditional cobblers and pies are filled with fat and sugar – this recipe is much lighter, but will satisfy your sweet tooth just as well.
What You Need
Serves 10
1 sweet, ripe peach (or apple or pear)
coconut cooking spray
1 teaspoon agave nectar
pinch of sea salt
pinch of freshly ground cinnamon
Instructions
1. Wash, peel and pit the peach. Chop into bite-sized pieces.
2. Pre-heat a skillet over medium-high heat. Spray lightly with coconut cooking spray.
3. Sauté the peach pieces for about a minute, then add the agave nectar, salt and cinnamon. Continue to sauté for another few minutes until it turns a deep golden color.
4. Serve and enjoy immediately!
Nutrition
One serving equals: 53 calories, .2g fat, 100mg sodium, 13g carbohydrate, 1.8g fiber, and 1g protein.
We hope that you get a chance to give this recipe a try this week. Please call or email for assistance in all things fitness. And if you are not yet one of our amazing clients, we would love to set you up with a free workout and nutrition consultation. Whether you live in New Rochelle, Scarsdale, Larchmont, Bronxville, Eastchester, Mamaroneck, or anywhere in southern Westchester, the best personal training, bootcamps, nutrition, and kids fitness are only minutes away. 1293 North Ave, New Rochelle, across from CVS and Starbucks. (914) 740-4118. info@northendfitess.com.