If you could live a longer, healthier life by taking a small pill each day, you'd do it wouldn't you? You'd be crazy not to! With this fact in mind, the incredible growth of dietary supplements makes sense. It's estimated one out of every three Americans currently takes some sort of nutritional supplement each day. According to government statistics, more than $11 billion is spent each year on vitamins and minerals in the U.S. alone!
This extreme interest in health and nutrition is, unfortunately, fueled by false advertisement. The Internet, television, and product labels make claims not backed by science, fooling millions and reaping a sizable paycheck. And in America, supplements are regulated by the Food and Drug Administration the same way that foods are, not as if they are medications. This means supplement manufacturers aren't required to back their claims by science.
In your quest for fitness, don't be fooled by these three myths surrounding the use of nutritional supplements.
Myth #1: "More Is Better"
If vitamins, minerals, botanicals, and herbs are good for you and available over the counter, they must be safe to take in high doses, right? Science has proven otherwise. You feel a cold coming on so you pop the vitamin C pills and lozenges to ward it off, but too much of certain vitamins and minerals can be dangerous.
When choosing a multivitamin and other supplement, look for ones that contain no more than 100 percent of each ingredient and be careful of combining a multivitamin with another vitamin supplement and always ask your doctor, especially if you are currently taking medications.
Myth #2: "A Supplement Will Make Up for My Unhealthy Diet"
Hate vegetables? Drink too much caffeine? Like to skip breakfast? Well, be wary of relying solely on supplements to make up for your nutritional deficiencies. Your body is better able to absorb nutrients from real food, so supplements should only be taken as icing on your healthy cake.
With a healthy diet that includes plenty of fruits, vegetables and lean proteins, you've got little room for the need of supplements. Eating a healthy well-rounded diet will also provide millions of phytonutrients unavailable in supplement form. It also helps your supplements be more effective when you do take them, as supplements are made less effective when taken on an empty stomach.
Myth #3: "I Can Trust the Claims of Supplement Labels"
Many supplement containers describe the health benefits their ingredients aim to provide. These range from increased vitality to improved disease immunity. Great as these claims may sound, they are not backed up by significant, proper research. They are, however, great marketing tools that will pull you in and trick you right out of your money.
It isn't surprising that the claims of supplements aren't proven by anything other than anecdotal evidence. Recently, independent research found that 30 percent of products labeled as multivitamins do not include the ingredients in the amounts listed on the labels and occasionally contain dangerous ingredients.
If you need help navigating the confusing world of dietary supplements and nutrition, give us a call for a free nutrition consultation at North End Fitness & Training!
Call or email today to get started! 914-740-4118. info@northendfitness.com
---
Easy Lentil Soup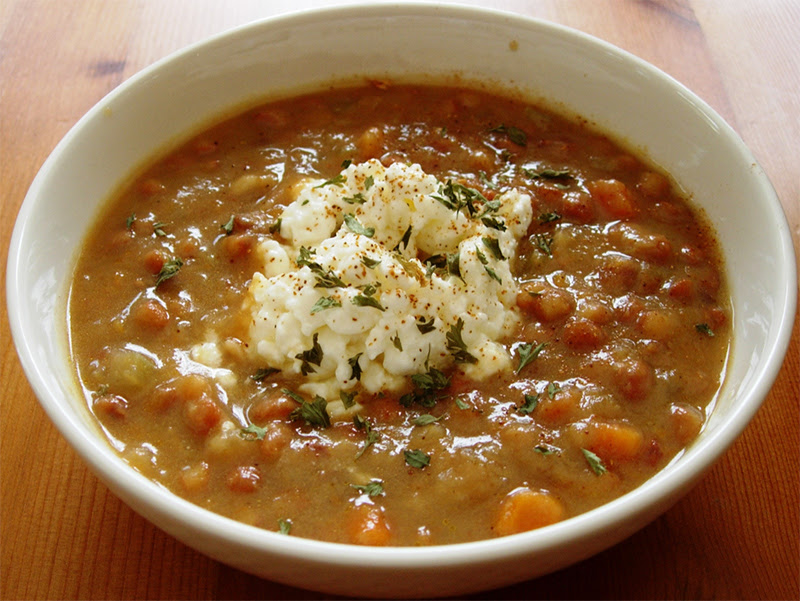 ​
There's nothing like a bowl of homemade soup for instant comfort. Use this Easy Lentil Soup recipe for a light dinner or quick lunch. It's easy to make, tastes delicious and is low in fat. What's more it's full of natural protein. And guess what? Lentils are packed with cholesterol-lowering fiber.
What you need
Serves 8
1 tablespoon olive oil
1 cup finely chopped onion
½ cup finely chopped carrot
½ cup finely chopped celery
2 teaspoons salt
1 pound lentils, picked and rinsed
1 cup peeled and chopped tomatoes
2 quarts chicken broth, fat free, reduced sodium
½ teaspoon ground coriander
½ teaspoon ground toasted cumin
Optional, spoonful of fat free cottage cheese
Optional, dried parsley
Instructions
1. Put the olive oil in a 6-quart Dutch oven and place over medium heat. Add the onion, carrot, celery and salt. Sauté for 6 to 7 minutes.
2. Add the lentils, tomatoes, broth, coriander and cumin; stir to combine. Increase the heat to high and bring the mixture just to a boil. Reduce the heat to low, cover and cook at a low simmer until the lentils are tender, about 40 minutes.
3. Using a stick blender, puree the soup to your desired consistency. Serve with cottage cheese and sprinkle with dried parsley if desired.
Nutrition
One serving equals 240 calories, 2g fat, 35g carbohydrate, 18g fiber, and 16g protein.
Motivate your friends, family and co-workers! Use the "refer a friend" link below to forward this newsletter to your friends, family, and coworkers.
Reinvent Yourself
Recent advances in neuroimaging techniques have discredited the old saying, You can't teach an old dog new tricks. Scientists have discovered that the brain actually has dynamic properties throughout life. This means that your brain is always evolving. Through practice, you are able to change your habits and change yourself.
So go on, reinvent yourself!