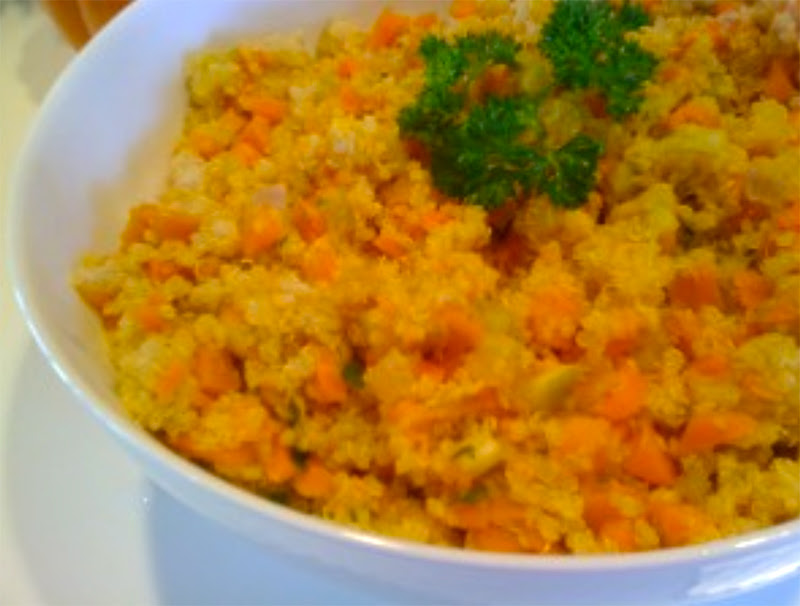 If you're looking for a homemade side to go with some grilled meat then this is wonderful recipe to try. It's filled with wholesome carbs, fiber and loads of real food nutrition.
This recipe is a great way to enjoy protein-filled quinoa. Winter squash combined with celery, onion and parsley makes a healthy and comforting side dish.
What You Need
Serves 10
2 yellow onions, diced
4 celery stalks, diced
4 carrots, diced
2 cups diced squash, butternut or any other fall or winter squash
1 Tablespoon olive oil
1 Tablespoon pure maple syrup
dash of freshly ground sea salt
zest and juice from 1 lemon
2 cups filtered water
1 cup quinoa
4 sprigs of parsley, finely minced
Instructions
1. Preheat oven to 400 degrees F.
2. Place the onions, celery, carrots and squash in a large bowl. Mix in the oil and syrup, then sprinkle the salt and lemon zest. Mix until well combined and then place on a shallow baking dish. Cover the dish and bake for 40 minutes. After 40 minutes remove cover and cook for another 15 minutes.
3. While the vegetables are in the oven, put the quinoa and water in a saucepan, cover and bring to a boil over medium heat. Cook for about 25 minutes over low heat, until the water is absorbed.
4. Combine the vegetables and cooked quinoa together with the lemon juice and parsley. Serve warm or chilled.
Nutrition
One serving equals: 95 calories, 1g fat, 19g carbohydrate, 2.5g fiber, and 4g protein.
We hope that you get a chance to give this recipe a try this week. Remember that we're only a call or email away to assist you in all things fitness. And if you are not yet one of our prized North End Fitness & Training clients from New Rochelle, Scarsdale, Larchmont, Eastchester, Bronxville, Mamaroneck, or White Plains then call or email us now to set up your first workout – We'd love to help you achieve your best body ever!
Talk Soon,