Green Bean, Egg and Quinoa Salad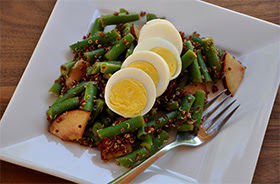 Here's a tasty way to eat your green beans – tossed with quinoa, sliced plum and topped with hard boiled egg. This type of salad, where the base is a steamed vegetable and protein is added on top, makes a phenomenally fit meal that will help get you to your fitness goals faster than ever. Enjoy!
What You Need
Serves 4
1 cup cooked red quinoa
2 cups green beans, steamed and cut into 1 inch pieces
1 ripe plum, thinly sliced
2 hard-boiled eggs, sliced
2 teaspoons sesame oil
2 Tablespoons fresh lime juice
½ teaspoon sea salt
ground black pepper
Instructions
1. Combine the quinoa, beans, plum and egg in a large bowl.
2. Drizzle with the sesame oil, lime juice, salt and pepper. Mix well and enjoy!
Nutrition
One serving equals: 225 calories, 7g fat, 270mg sodium, 31g carbohydrate, 5g fiber, and 10g protein
We hope that you get a chance to give this recipe a try this week. Remember that we're only a call or email away to assist you in all things fitness. And if you are not yet one of our prized North End Fitness & Training clients from New Rochelle, Scarsdale, Larchmont, Eastchester, Bronxville, Mamaroneck, or White Plains then call or email us now to set up your first workout – We'd love to help you achieve your best body ever!
Talk Soon,
Joseph